Dead Soldiers' Remains at Cold Harbor Battlefield
Battle of Cold Harbor, Library of Congress
Description: On May 31, Sheridan's cavalry seized the vital crossroads of Old Cold Harbor. Early on June 1, relying heavily on their new repeating carbines and shallow entrenchments, Sheridan's troopers threw back an attack by Confederate infantry. Confederate reinforcements arrived from Richmond and from the Totopotomoy Creek lines. Late on June 1, the Union VI and XVIII Corps reached Cold Harbor and assaulted the Confederate works with some success. By June 2, both armies were on the field, forming on a seven-mile front that extended from Bethesda Church to the Chickahominy River. At dawn June 3, the II and XVIII Corps, followed later by the IX Corps, assaulted along the Bethesda Church-Cold Harbor line and were slaughtered at all points. Grant commented in his memoirs that this was the only attack he wished he had never ordered. The armies confronted each other on these lines until the night of June 12, when Grant again advanced by his left flank, marching to James River. On June 14, the II Corps was ferried across the river at Wilcox's Landing by transports. On June 15, the rest of the army began crossing on a 2,200-foot long pontoon bridge at Weyanoke. Abandoning the well-defended approaches to Richmond, Grant sought to shift his army quickly south of the river to threaten Petersburg. Cold Harbor, furthermore, was approximately 10 miles (16 km) northeast of the Confederate capital of Richmond, making it a vital and strategic location.
Battle of Cold Harbor: May 31 - June 12, 1864
Overview
"I regret this assault more than any one I ever ordered." Gen. Grant after the Battle of Cold Harbor
The Battle of Cold Harbor, one of the final battles of Union Lieutenant General Ulysses S. Grant's 1864
Overland Campaign
during the American Civil War, is remembered as one of American history's bloodiest, most lopsided battles. Thousands of Union soldiers were killed or wounded in a hopeless frontal assault against the fortified troops of Confederate General Robert E. Lee. Grant said of the battle in his memoirs "I have always regretted that the last assault at Cold Harbor was ever made. I might say the same thing of the assault of the 22d of May, 1863, at Vicksburg. At Cold Harbor no advantage whatever was gained to compensate for the heavy loss we sustained." (
Battle of Cold Harbor: Union Account
.)
Cold Harbor Battlefields
Map Courtesy Microsoft Virtual Earth
(About) Satellite photograph showing Cold Harbor and Gaines Mill Battlefields, as well as both Old and New Cold Harbors.
While entrenching and preparing for the Battle of Cold Harbor, aka 2nd Battle of Cold Harbor, "Union soldiers discovered skeletal remains from the location's first battle."
The battle was fought in central Virginia over the same ground as the Battle of Gaines Mill during the
Seven Days Battles
of 1862. In fact, some accounts refer to the 1862 battle as the First Battle of Cold Harbor, and the 1864 battle as the Second Battle of Cold Harbor.
Battle of Cold Harbor, aka 2nd Cold Harbor
Historical Marker
Despite its name, Cold Harbor was not a port city. It described two rural crossroads named for a hotel located in the area (Cold Harbor Tavern, owned by the Isaac Burnett family), which provided shelter (harbor) but not hot meals. Old Cold Harbor stood two miles east of Gaines Mill, New Cold Harbor a mile southeast. Both were approximately 10 miles (16 km) northeast of the Confederate capital of Richmond.
| | |
| --- | --- |
| May 31-June 12, 1864 | Operations at and about Cold Harbor |
| June 3, 1864 | Action at Haw's Shop, Skirmish near Via's House |
| June 7-24, 1864 | The Trevilian Raid (including combats at Trevilian Station and Newark or Mallory's Cross-Roads (11th and 12th); King and Queen Court-House (18th and 20th); White House or Saint Peter's Church, and Black Creek or Tunstall's Station (21st); Jones' Bridge (23d); and Saint Mary's Church (24th), &c) |
| June 10, 1864 | Skirmish at Old Church |
| June 12, 1864 | Action at Long Bridge, Skirmish at White House Landing |
Artwork
Waud drawing of the Battle of Cold Harbor
Library of Congress
Battle of Cold Harbor: May 31 - June 12, 1864
Civil War Battle of Cold Harbor
(Click to Enlarge)
History
(Right) Battle of Cold Harbor: The Confederate Main Line (Historical Marker). Inscription: "Here Longstreet's corps , with Breckinridge and A. P. Hill's corps to the southward, repulsed on June 3, 1864, fourteen assaults from the east against the confederate main line. The Federal losses, about 7,000, were the heaviest ever sustained in America in so brief an action." (
Cold Harbor National Cemetery
and
Ten Bloodiest and Costliest Battles of the American Civil War
)
10 miles separated Richmond from Cold Harbor
Map courtesy MicrosoftMapPoint
(In this map you will notice the crucial 10 mile distance between Old Cold Harbor and the Confederacy's most prized city of Richmond.)
MAY 31, 1864
Virginia Civil War Battles in 1864
Location of Battle of Cold Harbor
After sparring along the Totopotomoy northeast of Richmond, Grant ordered Major General Philip Sheridan's cavalry to move south and capture the crossroads at Old Cold Harbor. Arriving near the intersection, the Union force ran into Major General Fitzhugh Lee's Confederate horsemen.
A sharp contest ensued, soon joined by Confederate infantry under Brigadier General Thomas Clingman of Major General Robert Hoke's division. After a short battle, Union cavalry drove the Confederates beyond the crossroads. The Rebels then started digging new positions a half mile to the southwest.
JUNE 1
Cold Harbor Civil War Battlefield Map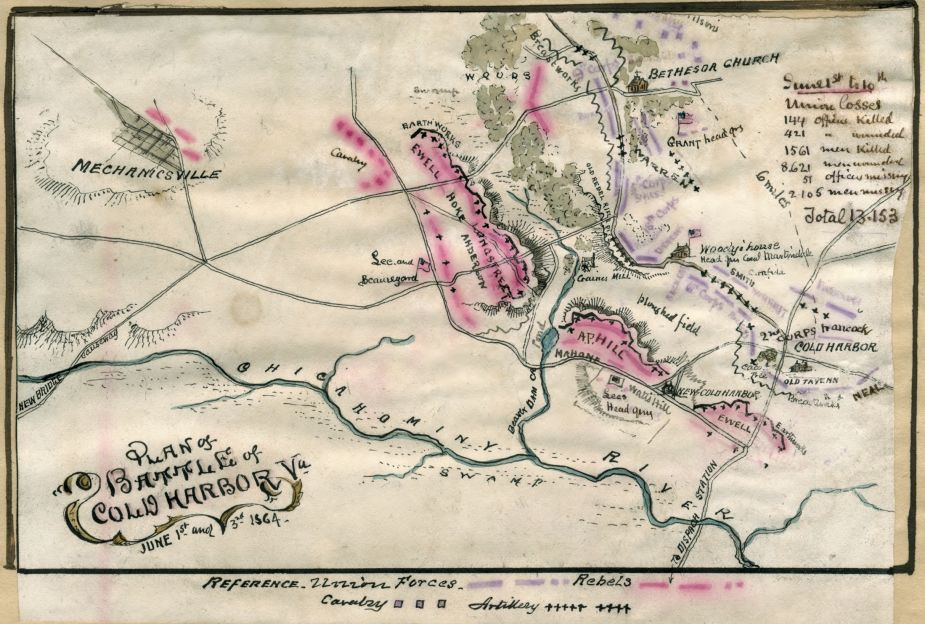 (Plan of Battle of Cold Harbor, VA: June 1st and 3rd)
Lee desired to retake Old Cold Harbor and sent
Major General Joseph Kershaw's
troops to join Hoke in a morning assault. The effort was short and uncoordinated. Hoke failed to press the attack and Sheridan's troopers, armed with Spencer repeating carbines, easily repulsed the assault.
Grant, encouraged by this success, ordered up reinforcements and planned his own attack for later the same day. If the Union frontal assault broke through the Confederate defenses, it would place the Union army between Lee and Richmond. After a hot and dusty night march, Major General Horatio Wright's VI Corps arrived and relieved Sheridan's cavalry, but Grant had to delay the attack Major General William Smith's XVIII Corps, Army of the James, marching in the wrong direction under out-of-date orders, had to retrace its route and arrived late in the afternoon.
Cold Harbor, June 1 Confederate Union
Cold Harbor Battlefield Map
June 1, 1864
The Union attack finally began at 5 p.m. Finding a fifty yard gap between Hoke's and Kershaw's divisions, Wright's veterans poured through, capturing part of the Confederate lines. A southern counterattack however, sealed off the break and ended the day's fighting. Confederate infantry strengthened their lines that night and waited for the battle to begin next morning.
On the morning of June 1, 1864, Confederate soldiers of Thomas Clingman's North Carolina brigade had frantically dug a trench. They also anticipated a Union assault later in the day. Around 6:00 p.m., Federal troops of the VI Corps moved into position near Old Cold Harbor, a half-mile to the east, and with two hours of daylight remaining, received orders to attack. This would be part of the first Union assault at Cold Harbor.
Cold Harbor Historical Marker
June 1, 1864
On June 1, 1864, Colonel Kellogg and the 2nd Connecticut engaged the center of Clingman's North Carolina Brigade, and with merely 30 feet separating the opposing commanders, General Clingman eyed Colonel Kellogg as they were shouting and barking commands with words of encouragement to their respective soldiers.
"
A tall and uncommonly fine looking officer in the front rank of the enemy's column, looking me directly in the face, took off his cap and cheered his men with words I could not catch."
General Thomas Clingman
referring to Colonel Elisha S. Kellogg of the 2nd Connecticut Heavy Artillery during the Battle of Cold Harbor. Kellogg had been about ten paces directly in front of Clingman. And within moments of exclaiming the previous remarks, Kellogg received two bullets to the head and immediately fell dead.
Battle of Cold Harbor
Historical Marker
(Right) The Gray Line.
Disappointed by the failed attack, Grant planned another advance for 5 a.m. on June 2. He ordered
Major General Winfield Hancock's
II Corps to march to the left of the VI Corps. Exhausted by a brutal night march over narrow, dusty roads, the II Corps did not arrive until 6:30 a.m. Grant postponed the attack until 5 p.m. Later that day, he approved a postponement until 4:30 a.m. of June 3 because of the spent condition of Hancock's men.
The Union delays gave Lee precious hours, time he used to strengthen his defenses. The Confederates had built simple trenches by daybreak of June 2. Under Lee's personal supervision, these works were expanded and strengthened throughout the day. By nightfall the Confederates occupied an interlocking series of trenches with overlapping fields of fire. Reinforcements under Major General John Breckinridge and Lieutenant General Ambrose Hill arrived and fortified the Confederate right. Lee was ready.
JUNE 3
At 4:30 on the morning of June 3 almost 50,000 Federal troops in the II, VI and XVIII Corps launched a massive assault. The Confederate position, now well entrenched, proved too strong for the Union troops. In less than an hour, thousands of Federal soldiers lay dead and dying between the lines. Pinned down by a tremendous volume of Confederate infantry and artillery fire, Grant's men could neither advance nor retreat. With cups, plates, and bayonets, they dug makeshift trenches. Later, when darkness fell, these trenches were joined and improved.
Cold Harbor, June 3 Confederate Union
Cold Harbor Battlefield
June 3, 1864
JUNE 4-12
Civil War battles around Richmond
(Click to Enlarge)
(Right) Map reflects the numerous Civil War battles fought around Richmond. At the outbreak of the American Civil War in 1861, the strategic location of the Tredegar Iron Works was one of the primary factors in the decision to make Richmond the Capital of the Confederacy. The arsenal produced the 723 tons of armor plating that covered the CSS Virginia, the world's first ironclad used in war, as well as much of the Confederates' heavy ordnance machinery.
The great attack at Cold Harbor was over. Hundreds of wounded Federal soldiers remained on the battlefield for four days as Grant and Lee negotiated a cease-fire. Few survived the ordeal.
From June 4 to June 12, both armies fortified their positions and settled into siege warfare. The days were filled with minor attacks, artillery duels and sniping. With the Union defeat at Cold Harbor, Grant changed his overall strategy and abandoned further direct moves against Richmond. On the night of June 12, Union forces withdrew and marched south towards the James River. During the two week period along the Totopotomoy and at Cold Harbor, the Federal army lost 12,000 killed, wounded, missing and captured while the Confederates suffered almost 4,000 casualties.
Grant's next target was Petersburg and the railroads that provided needed supplies to the Confederate army. Cold Harbor proved to be Lee's last major field victory and changed the course of the war from one of maneuver to one of entrenchment.
Aftermath
The Battle of Cold Harbor was the final victory won by Lee's army during the war, and its most decisive in terms of casualties. Part of Lee's forces, however, won the Battle of the Crater the following month, during the
Siege of Petersburg
, but this did not represent a general engagement between the armies. The Union army, attempting the futile assault, lost 10,000 to 13,000 men over twelve days. The battle brought the toll in Union casualties since the beginning of May to a total of more than 52,000, compared to 33,000 for Lee. Although the cost was horrible, Grant's larger army finished the campaign with lower relative casualties than Lee's. See also
Virginia Civil War History
.
Estimated Casualties
* Estimates vary as to the casualties at Cold Harbor. The following table summarizes estimates from a variety of popular sources:
Casualty Estimates for the Battle of Cold Harbor
Source
Union
Confederate
Killed
Wounded
Captured/
Missing
Total
Killed
Wounded
Captured/
Missing
Total
National Park Service
13,000
2,500
Bonekemper, Victor, Not a Butcher
1,844
9,077
1,816
12,737
83
3,380
1,132
4,595
Eicher, Longest Night
12,000
"few
thousand"
Fox, Regimental Losses
1,844
9,077
1,816
12,737
Rhea, Cold Harbor
6,000
(June 3)
1,500
Smith, Grant
1,769
6,752
1,537
10,058
Some authors (Catton, Esposito, Foote, McPherson, Smith) estimate the casualties for the major assault on June 3 and all agree on approximately 7,000 total Union casualties, 1,500 Confederate. Gordon Rhea, considered the preeminent modern historian of Grant's Overland Campaign, has examined casualty lists in detail and has published a contrarian view in his 2002 book, Cold Harbor. For the morning assault on June 3, he can account for only 3,500 to 4,000 Union killed, wounded, and missing, and estimates that for the entire day the Union suffered about 6,000 casualties, compared to Lee's 1,000 to 1,500.
Cold Harbor Battlefield Marker
Richmond NBP
(Click to Enlarge)
In 2008, the Civil War Preservation Trust (CWPT) also placed the Cold Harbor battlefield on its Ten Most Endangered Battlefields list. Development pressure in the Richmond area is so great that only about 300 acres of what was once at least a 7,500-acre battlefield are currently preserved.
(Right) Map reflects the numerous battles fought around Richmond, the trenches, forts, Union and Confederate troop movements, and the mileage or distance from Richmond. Richmond National Battlefield Park, 1958.
In March 2007 the Hanover County Board of Supervisors approved a new edition of its Comprehensive Plan that, while it does contain innovative pro-conservation language, also increases the threat to the Cold Harbor Battlefield. Specifically, the Plan redesignates land on the northern portion of the battlefield, where little has been protected to date, from "Suburban Transitional" to "Suburban General." Though seemingly minor, this change doubled the housing density allowable in the area, which will further encourage development and increase the cost of preserving land. Some of the land impacted lies within the authorized boundary of Richmond National Battlefield, demonstrating its historical significance and making it eligible for inclusion in the National Park System.
(Sources and related reading below.)
Recommended Reading: Cold Harbor: Grant and Lee, May 26-June 3, 1864, by Gordon C. Rhea (Hardcover). Description: In his gripping volume on the spring 1864 Overland campaign--which pitted Ulysses S. Grant against Robert E. Lee for the first time in the Civil War--Gordon Rhea vividly re-creates the battles and maneuvers from the North Anna stalemate through the Cold Harbor offensive. Rhea's tenacious research elicits stunning new facts from the records of a phase oddly ignored or mythologized by historians. The Cold Harbor of these pages differs sharply from the Cold Harbor of popular lore. We see Grant, in one of his most brilliant moves, pull his army across the North Anna River and steal a march on Lee. In response, Lee sets up a strong defensive line along Totopotomoy Creek, and the battles spark across woods and fields northeast of Richmond. Continued below…
Their back to the Chickahominy River and on their last legs, the rebel troops defiantly face an army-wide assault ordered by Grant that extends over three hellish days. Rhea gives a surprising new interpretation of the famous battle that left seven thousand Union casualties and only fifteen hundred Confederate dead or wounded. Here, Grant is not a callous butcher, and Lee does not wage a perfect fight. Every imaginable primary source has been exhausted to unravel the strategies, mistakes, gambles, and problems with subordinates that preoccupied two exquisitely matched minds. In COLD HARBOR, Rhea separates fact from fiction in a charged, evocative narrative. He leaves readers under a moonless sky, Grant pondering the eastward course of the James River fifteen miles south of the encamped armies. About the Author: Gordon Rhea is the author of three previous books, a winner of the Fletcher Pratt Literary Award, a frequent lecturer throughout the country on military history, and a practicing attorney.
Advance to:
Recommended Reading: Not War But Murder: Cold Harbor 1864. Review From Library Journal: On June 3, 1864, the Union Second, Sixth, and Eighteenth Corps assaulted Confederate breastworks at Cold Harbor outside Richmond, VA. The resulting bloodbath amounted to U.S. Grant's worst defeat and "Bobby" Lee's final great victory. In his latest book, native Virginian and Baltimore Sun correspondent Furgurson (Chancellorsville, 1863) vividly retells the well-known story of how the friction between Grant and his insecure direct subordinate, George Meade, poisoned the Army of the Potomac's whole chain of command. Continued below…
By contrast, he depicts Lee as a commander beset by poor health and impossible logistical problems who brilliantly deployed his meager forces and soundly thrashed his overconfident adversary, thereby saving the rebel capital and extending an unwinnable war by nearly a year. The book is rich in word pictures and engaging anecdotes. Furgurson considers the wounded that were left to suffer with the dead between the lines while Lee and Grant quibble over protocols of recovery; the disastrous affect of poor maps and impassable terrain on the Federal assault; and Grant's immediate need to bring Lincoln a battlefield victory before the 1864 presidential election. Furgurson's contribution is his evocative retelling of a great American military tragedy.
Recommended Reading: Bloody Roads South: The Wilderness to Cold Harbor, May-June 1864, by Noah Andre Trudeau. Description: "Nobody has brought together in one volume so many eyewitness accounts from both sides."-Civil War History Winner of the Fletcher Pratt Award. In this authoritative chronicle of the great 1864 Overland Campaign in Virginia, Noah Andre Trudeau vividly re-creates the brutal forty days that marked the beginning of the end of the Civil War. In riveting detail Trudeau traces the carnage from the initial battles in Virginia's Wilderness to the gruesome hand-to-hand combat at Spotsylvania's "Bloody Angle," to the ingenious trap laid by Lee at the North Anna River, to the killing ground of Cold Harbor. Through fascinating eyewitness accounts, he relates the human stories behind this epic saga. Continued below…
Common soldiers struggle to find the words to describe the agony of their comrades, incredible tales of individual valor, their own mortality. Also recounting their experiences are the women who nursed these soldiers and black troops who were getting their first taste of battle. The raw vitality of battle sketches by Edwin Forbes and Alfred R. Waud complement the words of the participants. PRAISE FOR THE BOOK: "Bloody Roads South is a powerful and eloquent narrative of the costliest, most violent campaign of the Civil War. Grant vs. Lee in the Wilderness, at Spotsylvania, and at Cold Harbor has never been told better."-Stephen W. Sears, author of The Landscape Turned Red. About the Author: Noah Andre Trudeau is an executive producer for cultural programs at National Public Radio in Washington, D.C. He is the author of Out of the Storm: The End of the Civil War, April-June 1865 and The Last Citadel: Petersburg, Virginia, June 1864-April 1865.
Recommended Reading: Trench Warfare under Grant and Lee: Field Fortifications in the Overland Campaign (Civil War America) (Hardcover) (The University of North Carolina Press) (September 5, 2007). Description: In the study of field fortifications in the Civil War that began with Field Armies and Fortifications in the Civil War, Hess turns to the 1864 Overland campaign to cover battles from the Wilderness to Cold Harbor. Continued below...
Drawing on meticulous research in primary sources and careful examination of trench remnants at the Wilderness, Spotsylvania, North Anna, Cold Harbor, and Bermuda Hundred, Hess describes Union and Confederate earthworks and how Grant and Lee used them in this new era of field entrenchments.
Recommended Reading: Field Armies and Fortifications in the Civil War: The Eastern Campaigns, 1861-1864 (Civil War America) (Hardcover). Description: The eastern campaigns of the Civil War involved the widespread use of field fortifications, from Big Bethel and the Peninsula to Chancellorsville, Gettysburg, Charleston, and Mine Run. While many of these fortifications were meant to last only as long as the battle, Earl J. Hess argues that their history is deeply significant. The Civil War saw more use of fieldworks than did any previous conflict in Western history. Hess studies the use of fortifications by tracing the campaigns of the Army of the Potomac and the Army of Northern Virginia from April 1861 to April 1864. Continued below...
He considers the role of field fortifications in the defense of cities, river crossings, and railroads and in numerous battles. Blending technical aspects of construction with operational history, Hess demonstrates the crucial role these earthworks played in the success or failure of field armies. He also argues that the development of trench warfare in 1864 resulted from the shock of battle and the continued presence of the enemy within striking distance, not simply from the use of the rifle-musket, as historians have previously asserted. Based on fieldwork at 300 battle sites and extensive research in official reports, letters, diaries, and archaeological studies, this book should become an indispensable reference for Civil War historians.
Recommended Reading: The Battlefield of Cold Harbor, Hanover County, Virginia, 1864 (Map). Review: The site of Robert E. Lee and his Army of Northern Virginia's last Civil War Victory is one of astonishment, battlefield courage, and horrific carnage… This work includes the most complete, accurate and detailed maps of the battle of Cold Harbor ever published. Watercolor and colored pencil map showing farms, mills, entrenchments, watercourses, woods, fields and residences are all meticulously detailed and scaled to perfection. Continued below...
The reverse side includes an account of Union mapping at Cold Harbor; full color reproduction of the Army of the Potomac's Overland Campaign theater map; and photographs of two prominent Union topographical engineers, W. H. Paine and W.A. Roebling. A welcome addition to every Civil War buff's library as well as the individual that appreciates detailed topographical maps. FIVE STARS.
Sources: National Park Service; Official Records of the Union and Confederate Armies; Richmond National Battlefield Park; Bonekemper, Edward H., III, A Victor, Not a Butcher: Ulysses S. Grant's Overlooked Military Genius, Regnery, 2004; Catton, Bruce, Grant Takes Command, Little, Brown, 1968; Eicher, David J., The Longest Night: A Military History of the Civil War, Simon & Schuster, 2001; Esposito, Vincent J., West Point Atlas of American Wars, Frederick A. Praeger, 1959; Foote, Shelby, The Civil War, A Narrative: Red River to Appomattox, Random House, 1974; Fox, William F.: Regimental Losses in the American Civil War, Albany Publishing, 1889; Grant, Ulysses S., Personal Memoirs of U. S. Grant, Charles L. Webster & Company, 1885–86; Jaynes, Gregory, and the Editors of Time-Life Books, The Killing Ground: Wilderness to Cold Harbor, Time-Life Books, 1986; McPherson, James M., Battle Cry of Freedom: The Civil War Era (Oxford History of the United States), Oxford University Press, 1988; Rhea, Gordon C., The Battle of Cold Harbor, National Park Service Civil War Series, Eastern National, 2001; Rhea, Gordon C., To the North Anna River: Grant and Lee, May 13–25, 1864, Louisiana State University Press, 2000; Rhea, Gordon C., Cold Harbor: Grant and Lee, May 26 – June 3, 1864, Louisiana State University Press, 2002; Smith, Jean Edward, Grant, Simon and Shuster, 2001; Library of Congress; MicrosoftMapPoint.com; Microsoft Virtual Earth; National Archives; civilwar.org (CWPT); Civil War Sites Advisory Commission (CWSAC).