"The singular purpose of the soldier was to fight a battle and win"
The average American Civil War soldier was 5'8'' and weighed 143 lbs. 1 in 65 died in combat, 1 in 10 was wounded in combat, and 1 in 13 died from disease. The average age of the soldier was 25. In the Union Army, it is estimated that 100,000 soldiers were less than 15 years old. It is believed that the youngest soldier wounded in combat was William Black, age 11 (almost age 12). He was wounded in his left arm. Drummer boys were as young as 9 years. And some regiments, unknowingly, recruited female combatants.
The combat fatalities,
diseases
--including: mumps, measles, smallpox, influenza, malaria, typhoid, dysentery, cholera, chronic diarrhea, gangrene, tuberculosis, pneumonia, yellow fever, and venereal diseases--
wounds
(lack of medication and medical care), prisoners of war, poorly armed, grueling marches, no pay or shoes, harsh winters, heat stroke receptive summers, sleep deprivation, and very little food and water were a definite reflection of the war's arduous toll in the Confederacy. Scurvy was common due to a lack of fresh fruits and vegetables, and, with weakened immune systems, soldiers easily succumbed to diseases. It was common for the soldier to experience weeks or months without bathing. Moreover, to imagine each of the five human-senses taxed beyond the worst imaginable nightmare would only begin to allow one to identify and depict "
the soldier's life
." Regardless, even after comrade and kin fell during the toils of war, the soldier continued to fight in numerous battles during four extremely exhaustive years.
I am not as brave as I thought I was. I never wanted out of a place as bad in my life. The balls hurled, the shells sang, and the grape shot rattled. I want in no more battles. —Captain Alfred W. Bell, Company B,
39th North Carolina Infantry
, after the
Battle of Stones River
The
soldier
experienced various traumatic stressors such as: witnessing death or dismemberment, handling dead bodies, traumatic loss of comrades, realizing imminent death, killing others and being helpless to prevent others' deaths.
Rare soldiers' letters
allow the reader the most detailed insight to their experiences. Intimate and personal: diseases, privation, wounds, loneliness, exhaustion, heartache, and death are all explored. Furthermore, in their blood soaked Confederate uniforms, many were shielding numerous letters from loved ones pertaining to the so-called hellish conditions at home -- conditions that contributed in the complexity of maintaining accurate military service records.
"Diseases and
Napoleonic Tactics
were the contributing factors for the high casualties during the American Civil War."
It was common practice for family and neighbors to serve in the same regiment, and many believed this unity made it unthinkable to coward in the presence of the enemy. Overall, many entrusted their loved ones to enlist and serve with relatives and neighbors, with the common belief that they maintained their loved ones' best interest in mind. During battle it was typical for father and son to advance into enemy shot and shell, and this was a contributing factor in the high death toll during the fight. During the
Aftermath
, many suffered from the war's most terrible destruction and devastation. Countless veterans were pervaded with diseases, wounds, destitution, and
mental illnesses
. Many soldiers recovering from wounds were referred to as having the
Old Soldier's Disease
, a term applied to soldiers addicted to pain killers. Hearing loss was common due to the horrendous sounds associated with cannon and weaponry in combat. Furthermore, during the American Civil War, there was no shell shock, battle fatigue, or Post Traumatic Stress Disorder (PTSD) to help explain and legitimize a mysterious condition. The aftermath witnessed tens-of-thousands of homeless veterans. The veteran either had no home to return to or a disability prevented him from enjoying life's basic tasks and responsibilities. Union soldiers and veterans didn't receive the Department of Veterans Affairs' benefits and assistance, which fortunately was created in the twentieth century. (See also
Shook over Hell: Post-Traumatic Stress, Vietnam, and the Civil War
.)
The hardest work I have had since we got here was standing guard duty six hours night before last. —Private John T. Jones, Company D (Orange Light Infantry), First Regiment North Carolina Volunteers, May 8, 1861
While not in battle, drilling, or standing guard, the troops read, wrote letters to their loved ones and played any game they could devise, including baseball, cards and boxing matches. One competition involved racing lice or cockroaches across a strip of canvas. The soldier's favorite beverage was coffee; however, alcohol was occasionally smuggled into camp. See also The American Civil War Soldier.
"Penicillin had not been invented, so soldiers treated venereal diseases with herbs and minerals"
Life for the American Civil War soldiers
Civil War soldiers gathering for meal at the makeshift kitchen
Thousands of prostitutes thronged the cities in the war zones and clustered about the camps. By 1862, for instance, Washington, D.C., had 450 bordellos and at least 7,500 full-time prostitutes; Richmond was the center of prostitution in the Confederacy and had about an equal number of bordellos and prostitutes. Venereal disease among soldiers was prevalent and largely uncontrolled. About eight percent of the soldiers in the Union army were treated for venereal disease during the war; many cases were unreported. Penicillin had not been invented, so soldiers treated venereal diseases with herbs and minerals. Union General Joseph "Hooker" was widely known for his endorsement of prostitution; hence, his name is credited, associated, and synonymous with "prostitutes and prostitution."
We have a revival going on in our Regt. & it is general through the army. Our Chaplain is doing much good. —Lieutenant Colonel William Henry Asbury Speer, Twenty-eighth Regiment North Carolina Troops, April 28, 1863
Life as a Prisoner of War
I do not exaggerate when I say that it [Johnson's Island] is worse than a hog pen. —Colonel Robert F. Webb, Sixth Regiment North Carolina State Troops, February 25, 1864
Camp life as a Confederate soldier was hard, but prison life in
Camp Morton
was harder. —Confederate Prisoner of War
Eighty Acres of Hell, a.k.a. Prisoner of War Camp Douglas, reveals that the Union was more than capable of matching the Confederates atrocity-for-atrocity. While 12,000 prisoners entered Camp Douglas, only 6,000 survived. The rest were victims of calculated cruelty, torture and neglect. And Southern soldiers were not the only targets of this treatment--many prominent Chicago citizens were incarcerated under the banner of martial law, unjustly convicted of imagined offenses by ruthless military tribunals. According to Official Records of the Union and Confederate armies, Series II - Vol. 8, p. 348, Confederate prisoners were placed in condemned Union Prisoner of War Camps Douglas and Chase; they were condemned because they were infected with smallpox. The Official Records further state that several Union officials protested and called Camp Douglas an atrocity. However, Union prisoners of war were in equally atrocious conditions See also
Union and Confederate Civil War Prisoner of War and Prison History: Homepage
and
American Civil War Prisoner of War Camps
.
Death was a reality for any Civil War soldier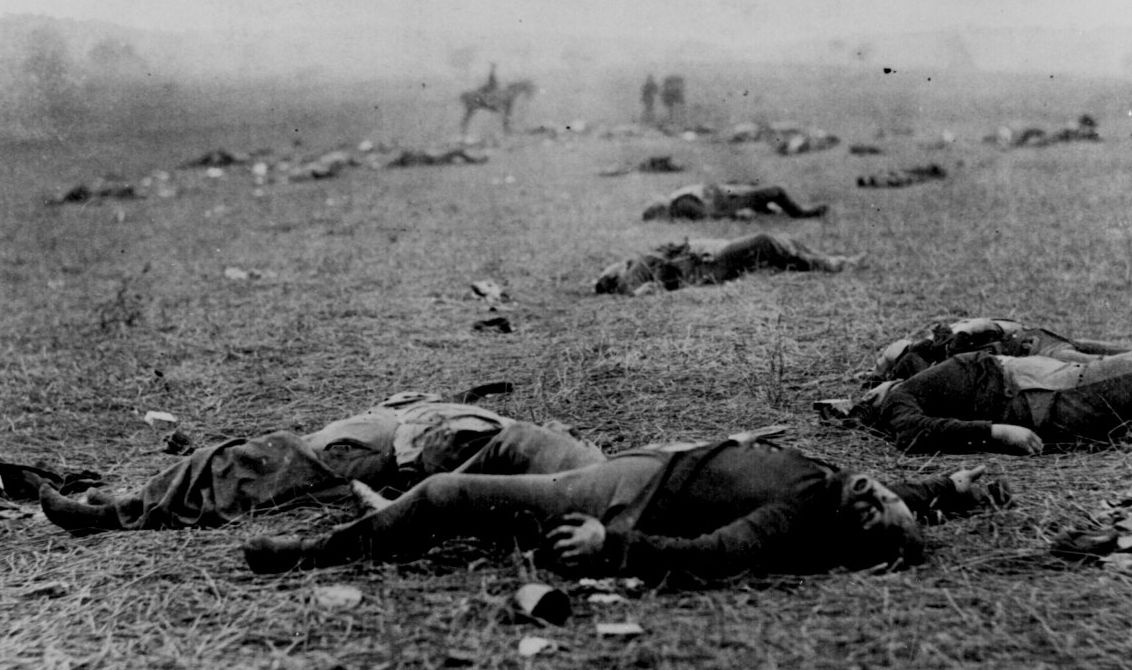 American Civil War soldiers killed in battle
We Were Brothers
During the last months of the American Civil War, when the "Lost Cause" was embraced, many Southern soldiers were unofficially promoted by their peers to fill vacancies, and it also explains why the officially mustered out rank and grade was often times lesser than claimed in soldiers' diaries, memoirs and papers. During the last months of the war, privates were being unofficially appointed to the rank or grade of lieutenant to fill the void. Concurrently, some Confederate commanders were destroying all, or what remained, of the regimental records. Said conditions also make it difficult for Civil War researchers and genealogists.
"I apprehend that if all living Union soldiers were summoned to the witness stand, every one of them would testify that it was the preservation of the American Union and not the destruction of Southern slavery that induced him to volunteer at the call of his Country. As for the South, it is enough to say that perhaps eighty percent of her armies were neither slave-holders, nor had the remotest interest in the institution...both sides fought and suffered for liberty as bequeathed by the Fathers--the one for liberty in the union of the States, the other for liberty in the independence of the States." Reminiscences of the Civil War, by John B. Gordon, Maj. Gen. CSA
(General Gordon was shot 5 times during the
Battle of Antietam
but did not die until January 9, 1904. Regarding General John Gordon, President Theodore Roosevelt stated, "A more gallant, generous, and fearless gentleman and soldier has not been seen by our Country.")
The
Aftermath
and
Reconstruction
proved that the scars from the American Civil War deeply affected veterans and civilians for years.
(Sources and related reading below.)
Recommended Reading: The Fighting Men of the Civil War, by William C. Davis (Author), Russ A. Pritchard (Author). Description: "A must for any Civil War library!" The sweeping histories of the War Between the States often overlook the men in whose blood that history was written. This account goes a long way toward redressing the balance in favor of the men in the ranks. The reader follows the soldiers from enlistment and training to campaigning. Attention is also given to oft-forgotten groups such as the sailors and black troops. Continued below...
No effort has been spared to include rare war era photographs and color photos of rare artifacts. Engagingly written by William C. Davis, the author of more than thirty books on the American Civil War. Award winning author and historian James M. McPherson states: "The most readable, authoritative, and beautifully designed illustrated history of the American Civil War."
Recommended Reading: Eyewitness to the Civil War (Hardcover) (416 pages) (National Geographic) (November 21, 2006). Description: At once an informed overview for general-interest readers and a superb resource for serious buffs, this extraordinary, gloriously illustrated volume is sure to become one of the fundamental books in any Civil War library. Its features include a dramatic narrative packed with eyewitness accounts and hundreds of rare photographs, pictures, artifacts, and period illustrations. Evocative sidebars, detailed maps, and timelines add to the reference-ready quality of the text. Continued below...
From John Brown's raid to Reconstruction, Eyewitness to the Civil War presents a clear, comprehensive discussion that addresses every military, political, and social aspect of this crucial period. In-depth descriptions of campaigns and battles in all theaters of war are accompanied by a thorough evaluation of the nonmilitary elements of the struggle between North and South. In their own words, commanders and common soldiers in both armies tell of life on the battlefield and behind the lines, while letters from wives, mothers, and sisters provide a portrait of the home front. More than 375 historical photographs, portraits, and artifacts—many never before published—evoke the era's flavor; and detailed maps of terrain and troop movements make it easy to follow the strategies and tactics of Union and Confederate generals as they fought through four harsh years of war. Includes captivating rare photos of soldiers to the realistic firsthand battlefield photo. Photoessays on topics ranging from the everyday lives of soldiers to the dramatic escapades of the cavalry lend a breathtaking you-are-there feeling, and an inclusive appendix adds even more detail to what is already a magnificently meticulous history.
Recommended Reading: The Life of Johnny Reb: The Common Soldier of the Confederacy (444 pages) (Louisiana State University Press) (Updated edition: November 2007) Description: The Life of Johnny Reb does not merely describe the battles and skirmishes fought by the Confederate foot soldier. Rather, it provides an intimate history of a soldier's daily life--the songs he sang, the foods he ate, the hopes and fears he experienced, the reasons he fought. Wiley examined countless letters, diaries, newspaper accounts, and official records to construct this frequently poignant, sometimes humorous account of the life of Johnny Reb. In a new foreword for this updated edition, Civil War expert James I. Robertson, Jr., explores the exemplary career of Bell Irvin Wiley, who championed the common folk, whom he saw as ensnared in the great conflict of the 1860s. Continued below...
About Johnny Reb:
"A Civil War classic."--Florida Historical Quarterly
"This book deserves to be on the shelf of every Civil War modeler and enthusiast."--Model Retailer
"[Wiley] has painted with skill a picture of the life of the Confederate private. . . . It is a picture that is not only by far the most complete we have ever had but perhaps the best of its kind we ever shall have."--Saturday Review of Literature
Recommended Reading: Life of Billy Yank: The Common Soldier of the Union (488 pages) (Louisiana State University Press). Description: This fascinating social history reveals that while the Yanks and the Rebs fought for very different causes, the men on both sides were very much the same. "This wonderfully interesting book is the finest memorial the Union soldier is ever likely to have. . . . [Wiley] has written about the Northern troops with an admirable objectivity, with sympathy and understanding and profound respect for their fighting abilities. He has also written about them with fabulous learning and considerable pace and humor.
Editor's Pick: Co. Aytch: A Confederate Memoir of the Civil War. Description: Of the 120 men who enlisted in "Company H" (Or Co. Aytch as he calls it) in 1861, Sam Watkins was one of only seven alive when General Joseph E. Johnston's Army of Tennessee surrendered to General William Tecumseh Sherman in North Carolina in April, 1865. Of the 1,200 men who fought in the First Tennessee, only 65 were left to be paroled on that day. "Co. Aytch: A Confederate Memoir of the Civil War" is heralded by many historians as one of the best war memoirs written by a common soldier of the field. Sam R. Watkin's writing style in "Co Aytch" is quite engaging and skillfully captures the pride, misery, glory, and horror experienced by the common foot soldier. Continued below…
About the Author: Samuel "Sam" Rush Watkins (June 26, 1839 - July 20, 1901) was a noted Confederate soldier during the American Civil War. He is known today for his memoir Company Aytch: Or, a Side Show of the Big Show, often heralded as one of the best primary sources about the common soldier's Civil War experience. Watkins was born on June 26, 1839 near Columbia, Maury County, Tennessee, and received his formal education at Jackson College in Columbia. He originally enlisted in the "Bigby Greys" of the 3rd Tennessee Infantry in Mount Pleasant, Tennessee, but transferred shortly thereafter to the First Tennessee Infantry, Company H (the "Maury Greys") in the spring of 1861. Watkins faithfully served throughout the duration of the War, participating in the battles of Shiloh, Corinth, Perryville, Murfreesboro (Stones River), Shelbyville, Chattanooga, Chickamauga, Missionary Ridge, Resaca, Adairsville, Kennesaw Mountain (Cheatham Hill), New Hope Church, Zion Church, Kingston, Cassville, Atlanta, Jonesboro, Franklin, and Nashville. Of the 120 men who enlisted in "Company H" in 1861, Sam Watkins was one of only seven alive when General Joseph E. Johnston's Army of Tennessee surrendered to General William Tecumseh Sherman in North Carolina April, 1865. Of the 1,200 men who fought in the First Tennessee, only 65 were left to be paroled on that day. Soon after the war ended, Watkins began writing his memoir, entitled "Company Aytch: Or, a Side Show of the Big Show". It was originally serialized in the Columbia, Tennessee Herald newspaper. "Co. Aytch" was published in a first edition of 2,000 in book form in 1882. "Co. Aytch" is heralded by many historians as one of the best war memoirs written by a common soldier of the field. Sam's writing style is quite engaging and skillfully captures the pride, misery, glory, and horror experienced by the common foot soldier. Watkins is often featured and quoted in Ken Burns' 1990 documentary titled The Civil War. Watkins died on July 20, 1901 at the age of sixty-two in his home in the Ashwood Community. He was buried with full military honors by the members of the Leonidas Polk Bivouac, United Confederate Veterans, in the cemetery of the Zion Presbyterian Church near Mount Pleasant, Tennessee.
Editor's Picks and Recommended Reading for "The American Civil War Soldier; Life as a Civil War Soldier"
Sources: Official Records of the Union and Confederate Armies; Walter Clark, Histories of the Several Regiments and Battalions from North Carolina in the Great War 1861-1865; National Park Service: American Civil War; Weymouth T. Jordan and Louis H. Manarin, North Carolina Troops, 1861-1865; D. H. Hill, Confederate Military History Of North Carolina: North Carolina In The Civil War, 1861-1865; Library of Congress; North Carolina Office of Archives and History; North Carolina Museum of History; State Library of North Carolina; North Carolina Department of Cultural Resources; North Carolina Department of Agriculture; National Archives and Records Administration; and Tennessee State Library and Archives.