Family Tree : Genealogy
U.S. Grant:
Hiram Ulysses Grant was born in Point Pleasant, Ohio on April 27, 1822 to parents who were natives of Pennsylvania. His father Jesse Root Grant (1794–1873) was a self-reliant tanner and businessman of Yankee and English ancestry, from an austere family. His mother Hannah Simpson Grant (1798–1883) was of Scottish ancestry. In the fall of 1823, the family moved to the village of Georgetown in Brown County, Ohio.
General US Grant
Ulysses S. Grant
At the age of 17, Grant entered the United States Military Academy (USMA) at West Point, New York, secured by Congressman Thomas L. Hamer's nomination. An opening had been made at USMA when a cadet from Georgetown resigned in October 1838. Hamer mistakenly nominated him as "Ulysses S. Grant of Ohio." At West Point, he adopted this name with a middle initial only. His nickname became "Sam" among army colleagues at the academy, since the initials "U.S." stood for "Uncle Sam".
Many believe that Grant's true character was evident in his writing — especially in his personal letters to his beloved wife, Julia. "His letters are marvels of composition and are mirrors of his sensitive soul." Grant's letters to his wife "reveal his passions, sorrows and the loneliness that enveloped him like a shroud."
Grant intensely loved his wife and children. Together, he and Julia had four children. Grant was reported to be an indulgent and affectionate father. He remained close to his wife and children throughout his life. In fact, his wife and youngest son stayed with him at his Civil War headquarters cabin at City Point, Virginia from December 1864 to March 1865. After the Union victory at Petersburg, he returned to City Point to retrieve his wife and son so they could return home together. His family stayed by his side during his final days as he battled throat cancer in 1885. Many attributed the cancer to his love of cigars; Grant was known to smoke at least 20 cigars daily.
President Grant Genealogy
President US Grant Genealogy and Family Tree
The second president from Ohio, Grant was elected the 18th President of the United States in 1868, and was re-elected to the office in 1872. He served as President from March 4, 1869, to March 4, 1877.
General US Grant
US Grant
Ulysses S. Grant died on Thursday, July 23, 1885, at the age of 63 in Mount McGregor, Saratoga County, New York. After lying in state, Grant's body was placed on a funeral train and traveled south from Albany, New York, and passed through the West Point station of Garrison, across the Hudson River from the Academy.
The train carrying Grant's body was draped in black and slowly passed on its way to New York City. As it passed through West Point the whole undergraduate battalion with Cadet Captain John J. Pershing at its head stood at present arms. Grant's body lies in New York City's Riverside Park, beside that of his wife, in Grant's Tomb, the largest mausoleum in North America. Grant is honored by the Ulysses S. Grant Memorial at the base of Capitol Hill in Washington, D.C.
US Grant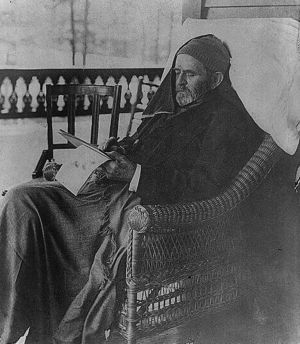 US Grant, with ill health, writing his memoir
President US Grant
President US Grant
Terminally ill, Grant had finished his memoir just a few days before his death. The Memoirs sold over 300,000 copies, earning the Grant family over $450,000.
Twain promoted the book as "the most remarkable work of its kind since the Commentaries of Julius Caesar." Grant's memoir has been regarded by writers as diverse as Matthew Arnold and Gertrude Stein as one of the finest works of its kind ever written.
Sources: National Park Service; National Archives and Records Administration; Library of Congress; The White House.
Recommended Reading: Ulysses S. Grant History